Beginner's Guide to Vibrators
Looking to buy a vibrator for the first time? Not sure which vibrator is the best for you? Well don't worry our vibrator experts have purposefully created a guide on the different types of vibrators which should give you all the information you need to make an informed decision on which vibrator is right for you or your partner.
Below we will discuss everything you need to know about vibrators, ranging from the different size vibrators, materials, and all the different types of vibrators.
Types of Vibrators
Bullet Vibrators
Bullet vibrators are some of our best selling and popular types of vibrators.
They get their name from, you guessed it, looking like a bullet! They have a small and discreet size that makes them easy to carry around and take away on trips with you. So if you find yourself travelling a lot then a bullet vibrator may be the right vibrator for you. Bullet vibrators can be used to stimulate numerous erogenous areas including the nipples and inner thigh, but there primary function is to stimulate the clitoris. They can also be used for shallow insertion into the vagina. Many couples like to use a bullet vibrator whilst having penetrative sex, as they can get dual stimulation from the bullet vibrator massaging the clitoris, whilst their partner penetrates them. The small size of bullets make these vibrators great for beginners. If you think a bullet vibrator is the best vibrator for you then take a look at our guide to the best bullet vibrators.
Rabbit Vibrators
Rabbit Vibrators are designed to give the user dual stimulation as they feature a long shaft for internal stimulation, and a bullet vibrator that usually features one or two bunny ears for clitoral stimulation; which is where they get their name from! The shaft on a rabbit vibrator either contains beads that are designed to rotate around inside you, or a bullet vibrator that emits powerful vibrations for you to feel internally. Simultaneously, the bunny ears vibrate against the clitoris, giving you double stimulation. This dual stimulation can result in what is called a 'blended' orgasm, where the user would climax internally, at the G-Spot, and externally via the clitoris at the same time. There are many different types of rabbit vibrators, and they come in all shapes and sizes, so if you think a rabbit vibrator is the best vibrator for you, then take a look at our guide to the best rabbit vibrators.
Remote Control Vibrators
These are fairly self-explanatory, and get their name because they have a
remote control. They bring pleasure to a new level, and allow you or your partner to control them via the push of a button. The remote control can either be wired, or wireless. Wireless remote control vibrators are much better for couples, and can be used as panty vibrators. Remote vibrators are an exciting addition to foreplay, and also great for solo masturbation. Many remote control vibrators offer a huge range of different speeds and functions that can be enjoyed solo or with your partner. If you think that a remote control vibrator is the best sex toy for you, but aren't sure which one to go for, then take a look at our guide to the best remote control vibrators.
Magic Wand Vibrators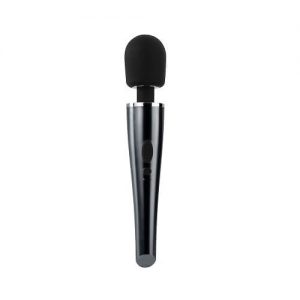 Wand vibrators were originally designed for full body massaging as the vibration they emit travel through the muscle fibres, helping to breakdown any damaged tissue. Women who used it for this purpose quickly realized that when the wand vibrator was pushed against the clitoris it created toe curling sensations, bringing the user to a powerful climax. Wands come in a variety of sizes, from mini wands all the way up to large wands. Wands are some of the most powerful vibrators available and feature a large head that contains a strong motor delivering these very powerful sensations to your erogenous zones. If you think that a wand vibrator is the best sex toy for you, then take a look at our guide to the best wand vibrator.
G-Spot Vibrators
The g-spot is an area approximately 2 inches inside the frontal wall of the
vagina, and is made up of extremely sensitive nerve endings. You should be able to find your g-spot when making a come-hither motion with your fingers when they are inserted into your vagina. G-Spot vibrators have been specifically designed to apply pressure to this area that is filled with nerve endings. They either feature a curved tip, or a shaft that is gently curved. Using such a vibrator, and applying it firmly to the g-spot, can lead to an extremely strong and powerful orgasm, as well as an intense feeling of sexual arousal. If you want to experience this, and think that a g-spot vibrator is the best sex toy for you then we strongly recommend either the Loving Joy DUA or the Jessica Rabbit G Spot Slim, both of which feature a shaft that is specifically designed to apply more pressure to the g-spot.
Realistic Vibrators
Realistic vibrators, sometimes called vibrating dildos, anatomically resemble a mans penis in both shape, size, feel, and appearance of a real penis. They usually feature a realistic tip and some also have veins and testicles, for an added degree of realism. If you think that a realistic vibrator is the best sex toy for you then we recommend either the Loving Joy Super Gybrator, or the Loving Joy Bully Boy which is available in both Flesh and Black colours.
Powerful Vibrators
If you are a buying a vibrator for the first time, or are younger, then you may not require a powerful vibrator. However if you struggle to reach climax with your vibrator that you have been using for a while, it may be time for an upgrade! As technology improves, and engineers work to increase the power of these motors, the motors in vibrators improve. So new sex toy releases will usually have an even more powerful motor inside compared with the previous ones. If you are power hungry and looking for an extremely powerful vibrator then we strongly recommend the Loving Joy Power Bullet Vibrator or the Loving Joy VITA magic wand vibrator.
Waterproof Vibrators
Solo masturbation is great fun, and sometimes its nice to have a wickedly wildly wet experience in the shower or bath. Waterproof vibrators are perfect to help you unwind at the end of a long day. More and more vibrators are becoming waterproof, but make sure you check the product specifics to confirm this before taking it on a wet adventure with you. If you want to get a waterproof vibrator then we highly recommend either the Loving Joy Power Bullet Vibrator, or the Loving Joy DUA Interchangeable Vibrator.
Silent and Quiet Vibrators
Silent and Quiet Vibrators are perfect for those who want some discreet pleasure. You may have flat mates or children in the room next door and you just want some quiet you time, silent vibrators will be the perfect tool to let you do this., and keep your pleasure sessions completely confidential. If you are look for a silent vibrator then we strongly recommend the Loving Joy VERSA.
These are the different types of vibrators, and should give you enough information to help you decide which is the perfect type of vibrator for you or your partner.
Power Source
The next topic to help you choose the best vibrator is the type of power it requires. You will find that vibrators can either be mains operated, battery powered, or rechargeable. Below we will discuss each type, which should help you to make the right decision on which is the best for you.
Battery Powered Vibrators
Battery operated vibrators, you guessed it, require batteries for them to work. Many vibrators tend to be battery operated and will require AA or AAA sized batteries. Depending on the type of vibrator a new set of good quality batteries should last several hours. If you use your vibrator frequently for long periods of time it may be worth getting a rechargeable or mains operated vibrator. Some of our best selling vibrators are battery operated and many of our customers prefer this as it means that you do not have to leave your vibrator out whilst it charges. Some of our most popular battery operated vibrators include the Jessica Rabbit Original and the Loving Joy 7 Speed Bullet Vibrator.
Rechargeable Vibrators
Rechargeable vibrators are growing in popularity massively both with the end user and manufacturer. Although rechargeable vibrators are slightly more expensive than battery operated vibrators, the extra money is more often than not completely worth it, especially if you use your vibrator regularly. Rechargeable vibrators usually come with a USB lead that you can plug in to your computer or a mains converter. Our best selling rechargeable vibrator is by far the Loving Joy Power Bullet, that comes with a USB docking station making charging an absolute breeze!
Mains Operated Vibrators
Mains operate vibrators are usually extremely powerful as they can get their power straight from the grid! The vibrations they produce tend to be extremely intense and can be felt throughout the body. It is always worth checking the length of the power cord to make sure that it reaches to where you would usually use your vibrator.
Price Range
Price is extremely important for anyone, especially when you have to look after the pennies! Part of Loving Joy's key philosophy is value for money, so no matter what the price is you can rest assured that you are receiving an extremely high quality product at a brilliant price point. We also understand that different people have different budgets, and we like to cater for everyone! So we offer products that start from £2.99 and go all the way up to £129.99! If you are looking for a cheap vibrator and want even better value for money then we recommend checking out our sale page, where you will be able to find our great value sex toys at an even better price! View the sale page here.
If you have any more questions on the different types of vibrators then please feel free to contact us via email and one of our product experts will be more than happy to get back to you as soon as they can.